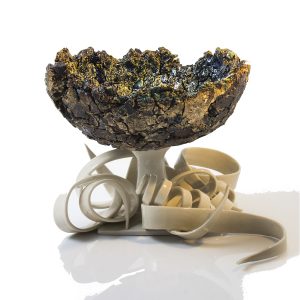 Catharina Goldnau Ceramics
ARTIST STATEMENT
Past and Present, clash of opposites or unified reality? The world looms large around, the primordial chaos was sorted, put in order by creating objects that carry meaning, manufactured to fulfil needs, desires and aesthetics as defined by culture. Life is lived in the space that is created between opposites, defined by civilizations over time. Rough vs polished, nature vs culture, Void of Value vs Priceless – who decides? Where is the value in the porcelain vase broken into 1000 shards? Disappeared? In Limbo? Searching I dive into the pile of broken pieces, I hunt for the right shard, cutting my fingers, bloody. These shards, testaments of my work, my children – memories of touch, shape, hope, idea and purpose. Foundations for new pieces, build from them and on them, and it feels true – I feel whole. Mending the cavity that was left behind when the baby was broken.
I build from shards and rough clay, putting the chaos back in order, giving birth to a new some…thing. An object of cultural significance, a jewelry box, a treasure chest, a bowl – but not quite. Testimonials of the primal ooze make their presence know, strewn throughout, bold and shy. The porcelain shard flashes, fragmented canine, reminding of former splendor and questioning present value systems from a bed of dirt. What's your score?
________________________________________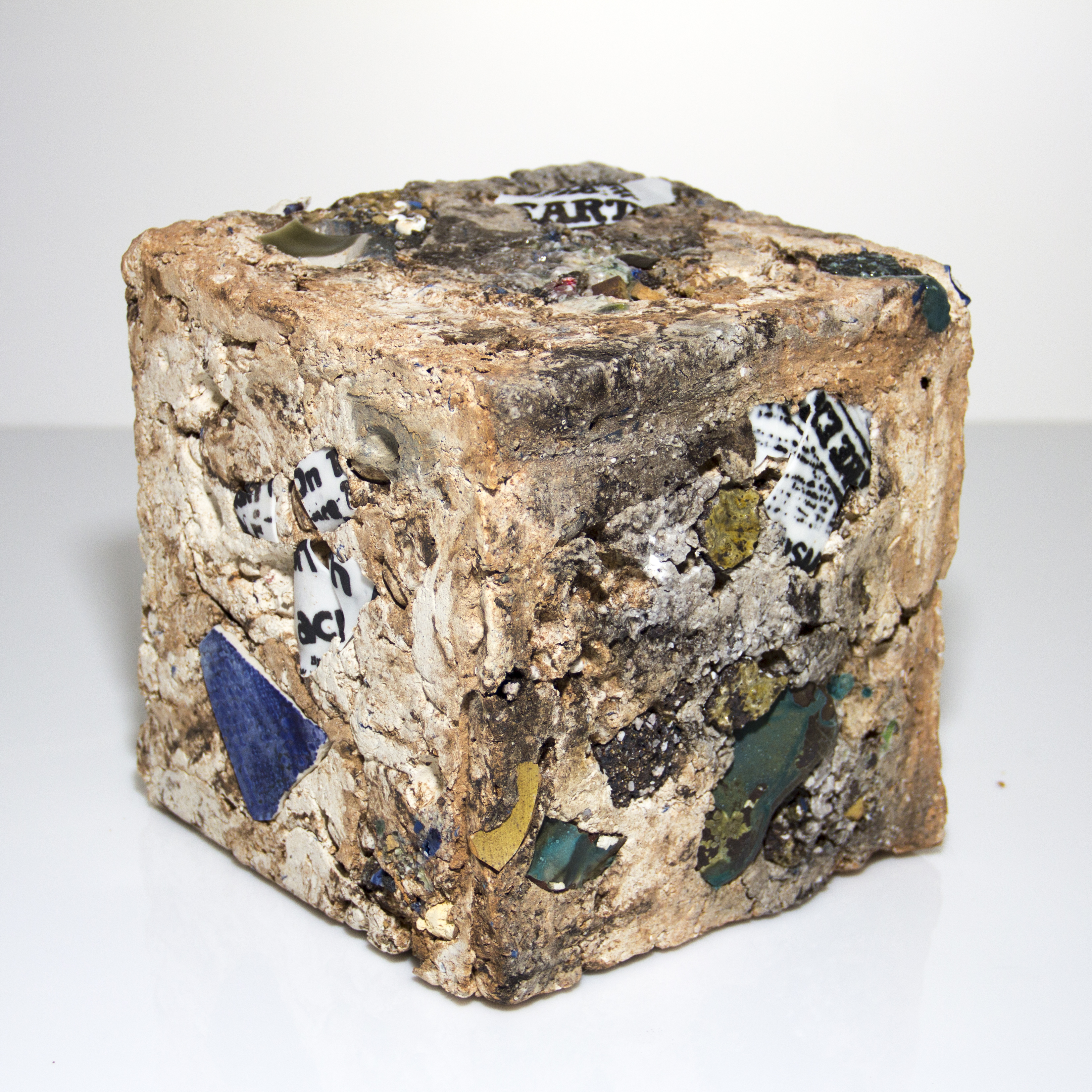 BIOGRAPHY
Catharina Goldnau explores transitions, juxtaposing traditions and materials in sculptural work that borders functionality. Born next to the Iron Curtain in Germany, she moved to Canada at the age of 19. After academic studies, 4 children and a teaching career, Catharina studied ceramics at Sheridan College, under Bruce Cochrane, Linda Sormin and Laura Kukkee.
Forming clay by hand complements the intellectual task of manipulating clay and glaze chemistry. Catharina is compelled to innovate, exploring non-traditional ways to manipulate clays, combining unconventional materials in clay yields intriguing variations of form and unusual finishes. The effects of heat and fire play a pan-ultimate role in altering the piece, creating new forms and surfaces, tearing and splitting in the fire. Resins and textiles may be employed to supplement final touches.
Catharina is an award-winning graduate with a BA in Craft and Design with a specialty in Ceramics from Sheridan College.
Catharina has a BA in Craft and Design with a Specialty in Ceramics from Sheridan College, Ontario, Canada.

PROFILE
I am passionate about clay and the complexities of ceramic processes. My practice encompasses material exploration of low to high-fire clays with and without additions of materials, glazes in electric and atmospheric kilns, hand-building, wheel-throwing and slip-casting techniques, in the quest to make unconventional pieces of art designed for use.
PROFESSIONAL EXPERIENCE
2019   Chair of Magazine, Fusion, Ontario Clay and Glass Association
2018 Guest artist in Hamburg ceramic studio
2017   residency Germany studying and working with three different studio potters.
2012 – 16    Planned and delivered clay classes for children aged 5-12 in a variety of school settings to increase children's 3D modeling skills, provide an alternate art experience and contribute to children's appreciation of school activities, as reported by teachers and students.
2013 – 2014    Delivered and planned therapeutic clay classes for adults at the Centre Francophone de Toronto to provide art therapy and foster personal accomplishment to patients undergoing psychotherapy, increasing patient's recovery and feeling of self-worth.
2005 – 2015    French Immersion teacher at TDSB
1993 – present  Raised 4 children, Graduate Studies.
ART SHOWS
2020  featured artist in International Ceramic Artist Network (ICAN) juried exhibition "Holiday Entertaining "
2020  Ontario Society of Artists 147th Annual Open Juried Art Exhibition
2020  "Roots and Belonging" Exhibit at Leslie Grove Gallery
2020  International Peace Festival art exhibition, Daniel's      Spectrum Gallery, Toronto
2020  Emerging Artist mentioned in Fusion Magazine, 2020 Vol.4
2020  Toronto Outdoor/Online Art Fair
2020  Designweek TO: 1000 Vases Exhibition, juried
2020  Come Up to my Room, Gladstone Hotel, Toronto
2019  "Wir wollen Meer", Group Exhibit, GEDOK, Hamburg, Germany
2019  30th International Juried Exhibition, Viridian Art Gallery, Chelsea, NYC
2019 Function Fest, juried, Clay Center of New Orleans
2019 National Sculpture Exhibit, juried, Clay Center of New Orleans
2019 Water Exhibit, juried, open i art space gallery, Santa Barbara, CA
2019 Fusion Fireworks Travelling Exhibit, juried, Emerging Artist Award
2019 ICFF gallery exhibiting artist, New York City
2019 Solo exhibit, Gardiner Museum Toronto, lobby vitrine
2019 Toronto Interior Design Show 2019, Studio North Artist
2018 Overzealous Art Exhibit, First Place Award for Sculpture
2018 Fusion Clay and Glass Show, Wychwood Barns, Toronto
2018 Feature Artist at Faculty Club, UofT, inaugural opening
2018 Impact Art Show, juried, Neilson Park Creative Centre
2018 Breakthrough Exhibit by Fusion, juried,  The Ontario Clay and Glass Association
2018 Toronto Outdoor Art Show
2018          Sheridan College Graduation Exhibition at the Gardiner Museum, Award Winner
2018          Class Graduation Exhibit at the Gardiner Museum
2018          Selected for Sheridan College student showcase
2017          Participant in student exhibit "Made in Canada" at the             Gardiner Museum
2017          Selected for "Crafting the Future"  National Student Exhibition for            Canada 150, OCAD U
2010 – now    Hosts and organizes several private shows, donating all proceeds to charity.
2014-17       Exhibited several works in the gallery and display cases on                                                Sheridan Campus.
2014          Participated in the Fusion Clay and Glass show at Wychwood                                         Barns, Toronto.
2014          Exhibited work at "La Mano" clay studio, West 26th St, NY, NY
2013         Exhibited work at "Who Art Thou" art show
2010 -14      Exhibited work at Central Technical School.
AWARDS
2019            Emerging Artist Award, Fusion: Ontario Clay and Glass Association
2018 First prize for 3-D works in Overzealous Art Exhibit NPCC
2018               Winner of the Gardiner Museum Graduating Award
2016                Crack Pot Student Award rewarded by the Ceramic Faculty of                                        Sheridan College.
2015                Peter's Valley Summer Scholarship awarded by the Ceramic                                             Faculty, Sheridan College
2014                Sculpture "life" nominated by Central Tech Art Staff for                                                       participation in BMO show.
EDUCATION
2018                                 Sheridan College Bachelor of Craft and Design, Ceramics
2010 – 2014                Central Technical School, TDSB, Adult Art Diploma,
1993 – 1997                University of Toronto M.A. in Applied Psychology, Ph.D.,   pending,
1991-1993                   University of Toronto Ontario Teacher's Certificate,                                                              Diploma of Child Studies
1986 – 1991                B.A. Honours English, Spanish, Glendon College, York                                                            University
EXTRACURRICULAR
Adobe Photoshop, Illustrator, In-design, some experience with Solidworks
2015                  Workshop: Decorating with Slip, Maureen Mills, Peter's Valley
2015/11          Workshop: Naked Raku/RakuTechniques, Michael Sheba,     Haliburton School of the Arts
LANGUAGES spoken and written: English, French, German, Spanish